Battery manufacturer 'Duracell' has revealed its own wireless charging device called 'myGrid'.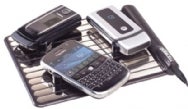 Duracell claims that myGrid can power a variety of gadgets wirelessly including handsets also a range of MP3 players. The super thin charger pad will begin charging when device is on and the pad will turn off when nothing is present.
The myGrid is due for release in October.