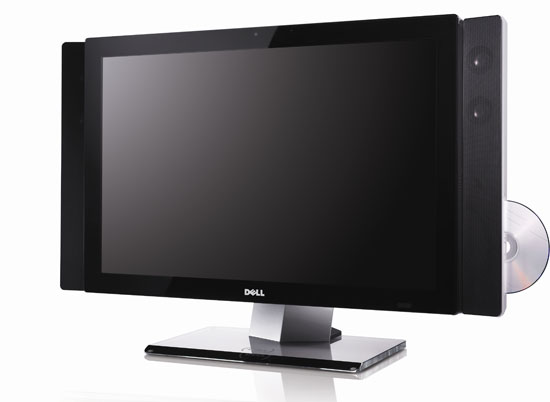 There are four basic configurations that Dell is offering of the XPS One 24, all shipping today:

i.Dell XPS One 24
ii.Dell XPS One 24 (PRODUCT) RED
iii.Dell XPS One 24
iv.Dell XPS One 24 (PRODUCT) RED

The 24 denotes the size of the LCD panel used in the XPS One.


All four configurations come with an Intel Core 2 Quad Q8200, which is a 45nm Penryn based quad-core processor running at 2.33GHz with a 4MB L2 cache (2MB L2 per core). The smaller amount of cache should put the performance of the Q8200 at below that of a Q6600, but with four cores things like video encoding should go swiftly.
The base configurations ship with Intel integrated graphics (G45), while the upgraded configurations ($1999 and $2299) have a NVIDIA GeForce 9600M GPU, which ships with 32 SPs and a 128-bit memory bus connected to 512MB of DDR3 memory.
The systems either ship with a 320GB or 750GB 7200RPM drive and either a slot loading DL-DVD+/-RW or a Blu-ray read/write drive. All configurations ship with an integrated analog/ATSC tuner.